BTC May Rally Back to $42,500 Soon
Bitcoin Price Prediction – April 28The BTC/USD market activities recently downed close to the pivotal support trading line at $37,500. But, the situation has taken another dimension as the BTC may rally back to the $42,500 area of resistant-trading spot soon. Price is trading around $39,689 at a positive percentage of 1.18.
BTC/USD Market Key Levels:Resistance levels: $42,500, $45,000, $47,500Support levels: $37,500, $35,000, $32,500
BTC/USD – Daily ChartThe daily chart reveals the BTC market price may rally back to the $42,500 resistance level after declining toward the $37,500 support. The 14-day SMA trading indicator is underneath the 50-day SMA indicator. A bullish candlestick is in the making, signifying an upward force is ongoing beneath the trend lines of the SMAs. The Stochastic Oscillators are around the 40 range, keeping a conjoining outlook. That could mean indecision is playing alongside the current pushes in the crypto trade.
What approach should traders apply currently as the BTC/USD market may rally back to $42,500 soon?
Traders may have to be on the lookout for a smaller pull-down that is not devoid of regaining its strength at a near time before considering a buying order following the trend as the BTC/USD market may rally back to the $42,500 area of previous resistance trading zone. The eventual opening of the Stochastic Oscillators to the northbound from the 40 range will potentially signify positive results to getting some ups in sequential order in the long-term run.
On the downside of the technical analysis, the BTC/USD market short-position takers needed to be wary of joining a reversal attempt that can emanate against the current smaller bullish candlestick. The reason is that variant successful rebounding motions have spanned from such price reactions around the lower trading spot under the SMAs. It would be technically sound ok for traders intending to go short to wait for another higher reliable resistant-trading zone to get a better deal afterward.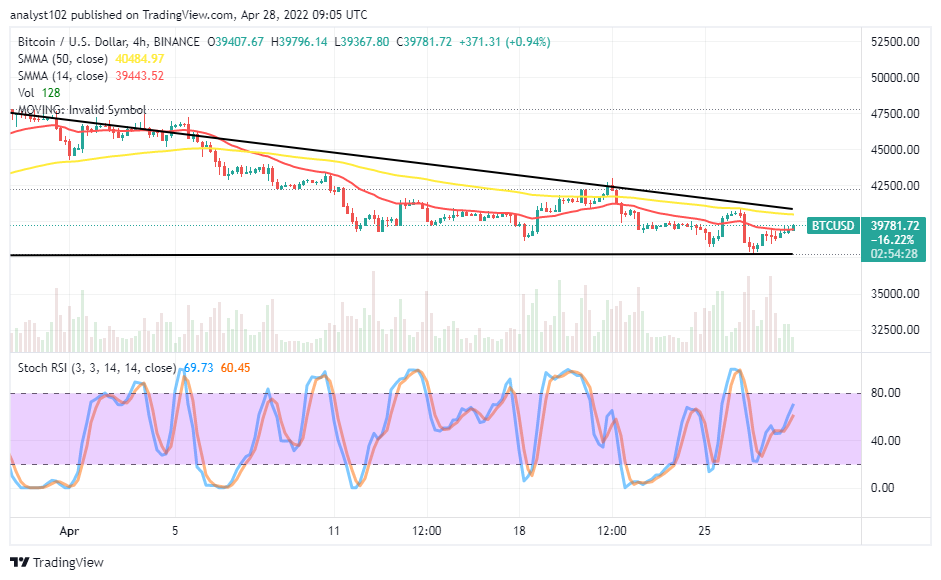 BTC/USD 4-hour Chart
The medium-term chart shows the BTC market price may rally back to $42,500 soon as there has a formation chain of smaller sequential candlesticks northward. The 14-day SMA trend line is below the 50-day SMA trend line between the spaces of the descending triangular pattern drawn over time. The Stochastic Oscillators have moved northbound from the range of 20, closely pointing toward the range of 80 to signify that a buying motion is ongoing. Force's strength appears not worthy of joining for trading purposes such as writing.
Looking to buy or trade Bitcoin (BTC) now? Invest at eToro!

68% of retail investor accounts lose money when trading CFDs with this provider.
Read more: